Jeff Williams Named Apple's Chief Operating Officer
Apple just announced the new Chief Operating Officer, Senior Vice President and Vice President for its varied operations. Jeff Williams named the Chief Operating Officer, Johny Srouji will join as Apple's Senior Vice President for Hardware Technologies. Also, Tor Myhren will join Apple in the first calendar quarter of 2016 as Vice President of Marketing Communications. He will report to Apple's CEO Tim Cook.
We are fortunate to have incredible depth and breadth of talent across Apple's executive team. As we come to the end of the year, we're recognizing the contributions already being made by two key executives," said Tim Cook, Apple's CEO. "Jeff is hands-down the best operations executive I've ever worked with, and Johny's team delivers world-class silicon designs which enable new innovations in our products year after year."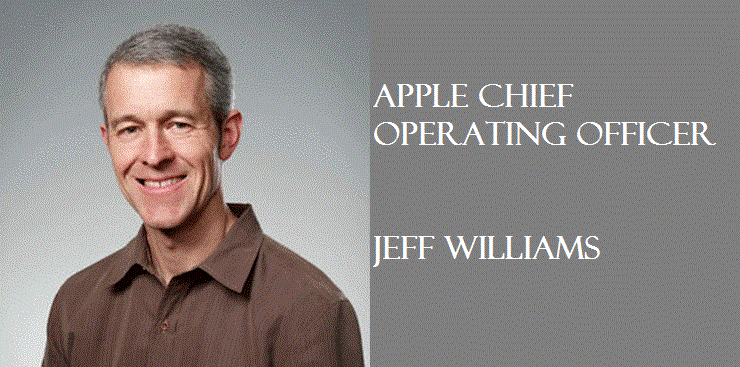 Jeff Williams joined Apple in 1998 as head of worldwide procurement. He was named vice president of Operations in the year 2004.
He also stated,
In addition, Phil is taking on new responsibilities for advancing our ecosystem, led by the App Store, which has grown from a single, groundbreaking iOS store into four powerful platforms and an increasingly important part of our business. And I'm incredibly happy to welcome Tor Myhren, who will bring his creative talents to our advertising and marcom functions.
Phil Schiller focus would be on strategies to extend the ecosystem Apple customers loved when using iPhone, iPad, Mac, Apple TV and wearable Apple Watch. Phil will now head almost all developer-related functions at Apple. Also, his role under marketing responsibilities includes Worldwide Product Marketing, international marketing, education and business marketing.
Tor Myhren served as a chief creative officer and president of Grey New York joins Apple from Grey Group and now he will join Apple as vice president of Marketing Communications. Grey was named Adweek's Global Agency of the Year for both 2013 and 2015 under his leadership. Now at Apple his work role will include Apple's advertising plans and will also lead an award-winning team that spans a broad range of creative disciplines from video, motion graphics and interactive web design to packaging and retail store displays. Previously this work was handled by Hiroki Asai, who earlier announced plans to retire after 18 years in graphic design and marketing communications roles at Apple.
For complete information, visit the official press release.
Editorial Staff at Generic Whiz.
Comments
comments