Windows 10 Insider Preview Build 14383 for PC & Mobile Announced
Microsoft has announced Build 14383 for both PC and Mobile to Windows Insiders. This is Windows 10 Build for PC and Mobile in the Fast ring. As stated via official blog,
On PC, you will notice a few things are different with this build. For example, the desktop watermark is now gone. This is because we're beginning to check in final code in preparation for releasing the Windows 10 Anniversary Update to customers on August 2nd. But we're not finished yet and will have more builds to release to Windows Insiders between now and then. Remember you guys play a big role in helping us decide which are the final *final* bits that we ship globally.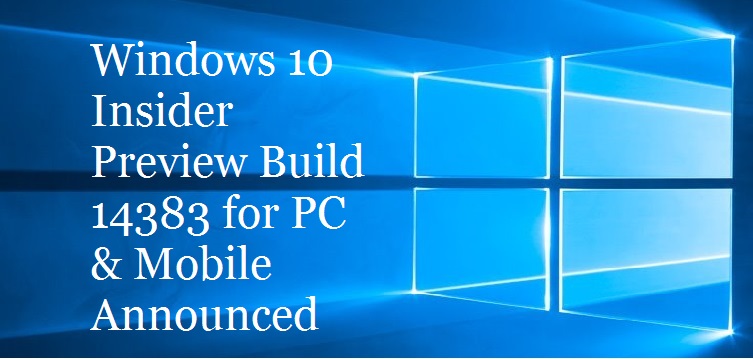 Enhancements for PC
"Get more extensions from the Store" link at the Extensions pane in Microsoft Edge will now redirect directly to the Store to download available extensions.
The keyboard shortcut to invoke Cortana in listening mode have been changed to Win + Shift + C. This has been changed based on feedback from Insiders
Fixes for PC
An issue fixed where the Settings app show media controls in the taskbar preview window.
Issue fixed where the checkmark indicated a selected state in app bar toggle buttons wasn't visible in high contrast.
Narrator wouldn't announce the fact that these were hyperlinks, when it was in Scan mode and going line by line through a list of hyperlinks, on certain webpages in Microsoft Edge .
Enhancements for Mobile
Battery performance enhanced for those who quickly turn the screen on and off to look at the Lock screen.
Fixes for Mobile
An issue in Microsoft Edge fixed where zooming in and out of embedded maps sometimes resulted in the map jumping to an unexpected location.
Many Windows Phone 8.1 games were playing in slow motion on certain devices, such as the Lumia 535. This issues has been fixed in the new release.
Keyboard output @ and € instead of "a" and "e" sometimes for certain languages in Windows Phone 8.1 apps, however, this has been fixed in the release as well.
For all the fixes and enhancements of the Windows 10 Insider Preview Build 14383, refer the official blog.
Editorial Staff at Generic Whiz.
Comments
comments