Intel Launches 6th Generation Intel Core vPro Processors
Intel Corporation announced the availability of its 6th Generation Intel® Core™ vPro™ processor family. The processor family addresses the security and productivity demands of large businesses with new innovations in authentication security, improved performance and collaboration for 2 in 1s, Ultrabooks, All-in-Ones, etc.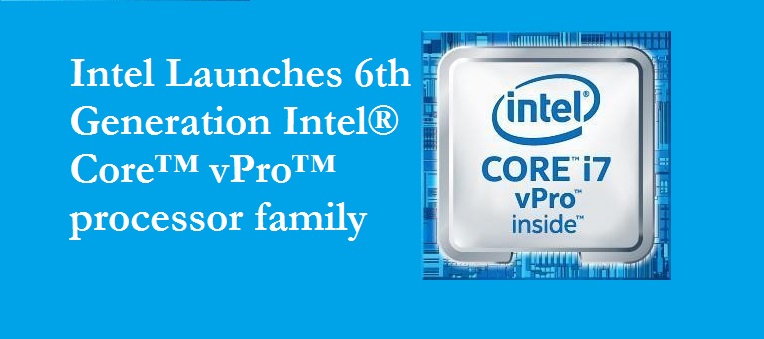 Tom Garrison, vice president and general manager for the Intel Business Client division stated,
With incredible, new, eye-catching designs, added performance, and longer battery life, the 6th Gen Intel Core and Intel Core vPro processors are setting a new standard for business computing. By also adding enhanced security capabilities in the hardware, Intel has helped to make these newest PCs an integral part of a business's overall security solution, making users more secure and productive than ever before.
6th Generation Intel® Core™ vPro™ Processor Features
Here are some features,
The 6th Generation Intel® Core™ vPro™ processor is considered as the company's best processor for business.
The processors are designed for full business productivity with up to 2.5 times the performance.
3 times the battery life
30-times increase in graphics performance over a 5-year-old system1,2,3,4.
Features Intel® Authenticate Solution, which is a hardware-enhanced multifactor authentication solution that strengthens identity protection.
Intel Authenticate verifies identities using a combination of up to three hardened factors at the same time:
"something you know," such as a personal identification number,
"something you have," including a mobile phone, and
"something you are," like a fingerprint.
Also, Intel is beginning updates to Intel® Unite™ for make things easier and a connecting enhancement at workplace, includes extended display capabilities so meeting participants no longer need to wait and search for the right adapter or dongle. Now it would be easier for onsite and online (remote) attendees to view and connect with content in real time.
For small and business owners, Intel is offering  Intel® Small Business Advantage (Intel SBA). It is something which would provide a centralized way to connect and share information coupled with automatic security and maintenance updates. Spme of the features, include chat and file share, with security ability, such as USB blocker, etc.
Source> Intel
Editorial Staff at Generic Whiz.
Comments
comments