Samsung Starts Producing World's Fastest DRAM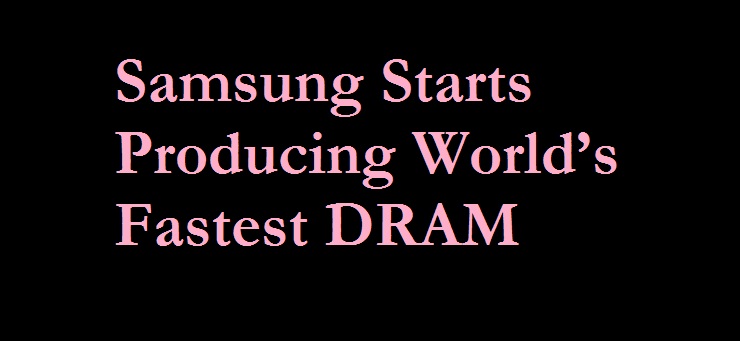 Samsung Electronics is the world's second largest semiconductor maker and has now started mass production of 4 gigabyte DRAM, which is considered as the world's fastest DRAM. Also, it is the industry's first 4GB DRAM package based on the 2nd generation HBM2 (High Bandwidth Memory) interface. Its is being developers for high performance computing (HPC) usage, advanced graphics, etc.
The new HBM by Samsung will provide exceptionally awesome DRAM performance that is more than seven times faster than the current DRAM performance limit. As expected, this will provide faster responsiveness for high-end computing tasks that includes parallel computing, machine learning, and graphics rendering. So, it is considered as the world's fastest DRAM.
Sewon Chun, senior vice president, Memory Marketing, Samsung Electronics, said:
By mass producing next-generation HBM2 DRAM, we can contribute much more to the rapid adoption of next-generation HPC systems by global IT companies. Also, in using our 3D memory technology here, we can more proactively cope with the multifaceted needs of global IT, while at the same time strengthening the foundation for future growth of the DRAM market.
The new DRAM package comes with 256GBps of bandwidth, that is twice the HBM1 DRAM package. Consider it as equivalent to a more than seven-fold increase over the 36GBps bandwidth of a 4Gb GDDR5 DRAM chip which has the fastest data speed per pin (9Gbps) among currently manufactured DRAM chips, stated by Samsung.
The 4GB HBM2 also enables improved power efficiency by doubling the bandwidth / watt over a 4Gb-GDDR5-based solution, and also embeds ECC (error-correcting code) functionality to provide high safety.
Samsung also stated its plans of producing an 8GB HBM2 DRAM package this year. Through, 8GB HBM2 DRAM in graphics cards, it would be easier for designers to save space of more than 95% as compared to using GDDR5 DRAM. It would provide optimal solutions for compact devices that depend upon high-level graphics computing capabilities.
The company will steadily increase production volume of its HBM2 DRAM over the remainder of the year to meet anticipated growth in market demand for network systems and servers. Samsung will also expand its line-up of HBM2 DRAM solutions to stay ahead in the high-performance computing market and extend its lead in premium memory production.
Source> Samsung Electronics
Editorial Staff at Generic Whiz.
Comments
comments