Vision Loss Stopped In Late-Stage Canine X-linked Retinitis Pigmentosa: A New Study By University Of Pennsylvania
Here's a surprising news after the preceding one in which a team from the University of Pennsylvania announced in 2012, that they had cured X-linked retinitis pigmentosa, in dog.
After 3 years, the same team has shown they can cure the disease over the long term. The treatment was given after half or more of the affected photoreceptor cells have been destroyed.
Since Retinitis Pigmentosa affects humans in the same way as it does to dogs, the results could work for humans as well wherein a stage for human clinical trials.
William A. Beltran, co-lead author and associate professor of ophthalmology at Penn's School of Veterinary Medicine said,
The 2012 study showed that gene therapy was effective if used as a preventive treatment or if you intervene right after the onset of cell death.

That was obviously very encouraging. But now we've gone further, showing that the treatment is long-lasting and effective even when started at mid- and late-stage disease.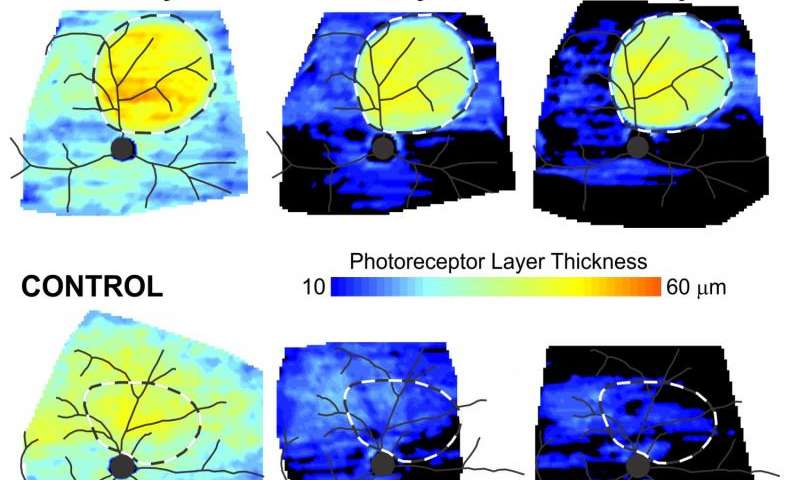 Image Credit: University of Pennsylvania
Artur V. Cideciyan, co-lead author and research professor of ophthalmology in the Scheie Eye Institute at Penn's Perelman School of Medicine said,
This happens to be a very severe disease with very early onset in the first two decades of life in humans. Because the progression of disease in dogs matches up with the progression in humans, this gives us a lot of confidence about translating these results to eventually treat humans.
For complete information on this, visit the News published via MedicalExpress [Actual News Release Source]
Editorial Staff at Generic Whiz.
Comments
comments