New Identification On Indian Currency Notes To Help Visually Impaired
In India some visually impaired people already knew how to recognize Indian Currency Notes, but surprisingly to make things easier, Reserve Bank of India revealed three new features in a press release on Sept 22, 2015. India  has the world's largest population of visually impaired.
Previously, notes were identified by the following identification marks:
Circle representation in Rs. 500 note (INR)
Diamond representation in Rs. 1000 (INR)
Now, RBI will circulate Rs 500 and Rs 100o notes with these three new/revised features:
Ascending size of numerals in the number panels,
Bleed lines, and
Enlarged identification mark.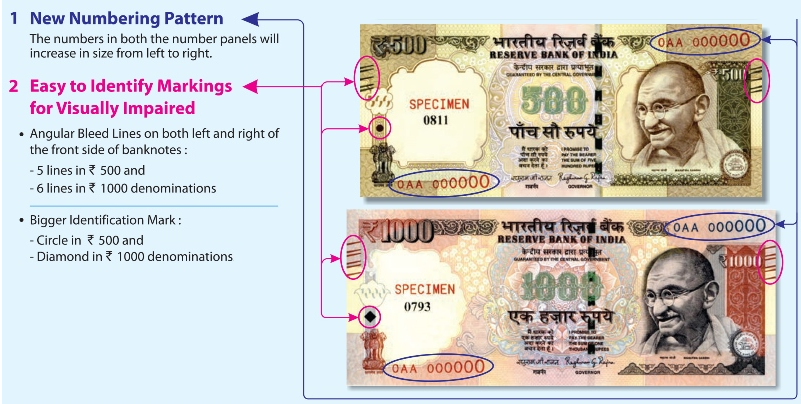 Image Source: Screenshot from rbi.org.in
As stated by Alpana Killawala, Principal Chief General Manager, in the official press release,
It may be recalled that the Reserve Bank recently put into circulation Rs. 500 and Rs. 1000 banknotes with numerals in ascending size in number panels but without bleed lines and enlarged identification mark. It has now added two more features to aid visually impaired in easy identification of banknotes part from securing them against counterfeiting.
Source: Press Release
Note: For those who don't know, the Indian Rupee Symbol changed from Rs to the following:

Editorial Staff at Generic Whiz.
Comments
comments