Seagate Unveils World's Largest Capacity, 60TB SSD Drive
Seagate has announced the world's largest capacity SSD of its kind, 60TB SSD Drive. Yes, 60TB! The company announced at the Flash Memory Summit conference, that the new product represent the high performance end of Seagate's Enterprise portfolio. This will help customers  store more data to meet the needs of today.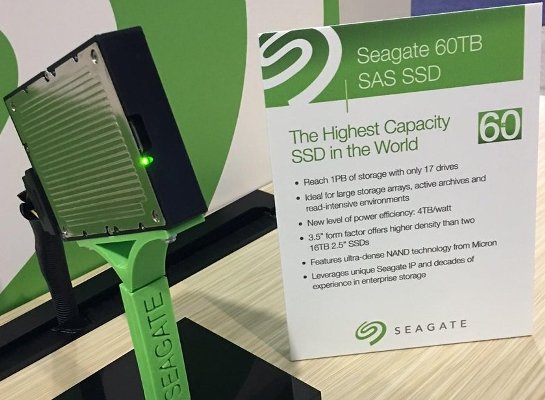 Image Source: Seagate Twitter
With the 60TB SSD Drive, Seagate also unveiled 8TB Nytro XP7200 NVMe SS, to assist IT professionals to easily keep the enormous amount of data generating these days. The 60TB SSD has twice the density and four times the capacity of the highest-capacity SSD available today. It is same as the capacity for 400 million photos on any social media platform.
As stated,
"The 60TB SAS SSD also simplifies the configuration process of accommodating "hot" and "cold" data, enabling data centers to use the same enterprise HDD 3.5 inch storage form factor. This eliminates the added step of separating out different types of data for near-term availability versus long-term storage — largely based on estimations or best-guesses of future data usage".
Availability of the 60TB SAS SSD, is expected to be launched in 2017 and the 8TB Nytro XP7200 NVMe SSD will come through channel partners in Q4, 2016.
Source> BusinessWire
Editorial Staff at Generic Whiz.
Comments
comments