Skype Meetings: Microsoft Introduces A New Online Meetings Tool
Microsoft has introduced a new online meetings tool, Skype Meetings for free. This offers small businesses with real-time audio and HD video conferencing. It also includes collaboration features also like the capability to share screens and content during meetings.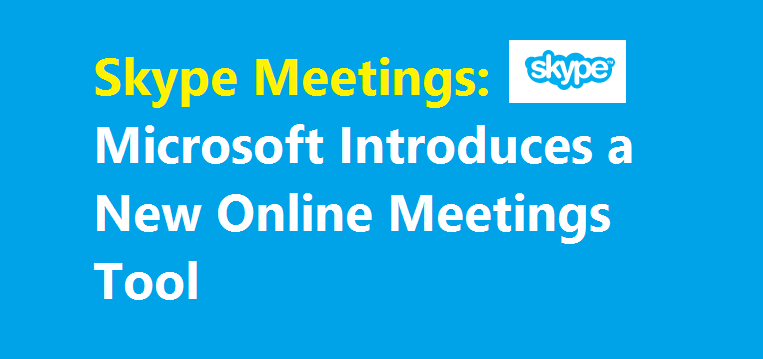 Here are the features,
Quickly setup meetings and share a personalized URL that participants click to join the meeting. Any  team member can join your online meeting, from any device, with just one click. Just choose to meet real time, or schedule it for a later time. The meeting URL is personalized just for you.
Participants can IM, share screen or PowerPoint presentation during the meeting, they can also record meetings.
While the meeting goes on, use the laser pointer and whiteboard features to make it more interactive and productive.
Real-time collaboration with up to 250 people.
Free meetings also available for up to 10 people without a subscription.
You can also use whiteboard, polls, Q&A, and built-in IM during meetings.
Professional meeting controls also introduced, like the ability to mute the audience in order to be heard. The meeting organizer gets these meeting controls.
Advanced calling options are also available, such as muting one or all participants.
24/7 phone support when needed.
HD video for meetings are itself with excellent quality, and USB speakerphones
While calling, focus on the people in your call, with features like automatic cropping and head tracking.
It has a Whiteboard, so that you can draw and edit being in the same room.
Andrew Sinclair, general manager for Skype for Business, states about the free and paid subscriptions,
Anyone in the U.S. with a business email address and whose organization doesn't already have Office 365 can sign up for free Skype Meetings at www.skype.com/meetings. Once you sign up, you can set up meetings for up to 10 people for the first 60 days and up to 3 people thereafter.

If you have an Office 365 business subscription that includes Skype for Business, then you already have richer online meetings capabilities, such as the ability to conduct large group meetings for up to 250 people and the ability to IM anyone in your organization at any time—not just during meeting
Comments
comments