Acer TravelMate B117 – Windows 10 PC For Students And Teachers Launched
Today, Acer  TravelMate B117 notebook launched powered by Windows 10 Pro. This PC launched by Acer focus on students and teachers in a classroom.
While building this, feedback from educators and students were taken during in-school visits. Also, Acer performed multiple-rounds of qualitative and quantitative research. As stated via a blog:
What students and teachers told Acer was that they needed longer battery life, a rugged and yet compact design to withstand the classroom setting and a device that was great for wireless sharing. The TravelMate B117 is the first notebook that features Acer's TeachSmart solution. TeachSmart enables new ways of classroom interaction, and empowers teachers with tools and cloud-based services to distribute class materials and collect assignments digitally.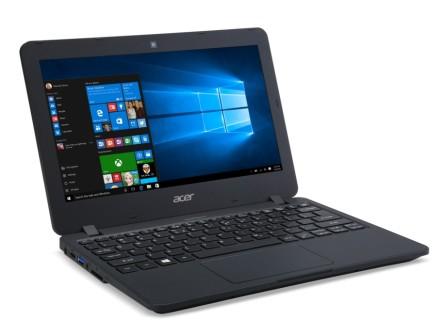 Image Source: blogs.windows.com
Acer TravelMate B117 Features
Here are some of its features:
Acer TravelMate B117 is powered with Intel Pentium or Celeron processors.
Intel HD graphics
4GB of DDR3L memory
HDD or eMMC storage options
Dual digital microphones
Acer Crystal Eye HD webcam with HDR support.
Includes a Precision Touchpad that supports Windows 10 gestures.
802.11ac wireless with 2×2 MIMO, that means up to three times faster wireless connectivity compared to 802.11n.
Wired connectivity options include one USB 3.0 port, one USB 2.0 port, and a full-sized HDMI port with HDCP support.
Comes with an integrated cloud solution to connect students and teachers. Teachers can easily distribute class material and assignments using a Microsoft ID and OneNote sharing. So, teachers and students can avoid the burden of hard copies.
Features a ruggedized frame with a rubber strip that frames the chassis. This is done keeping in mind the classroom environment and protecting the device from unexpected drops.
Features LED light embedded and can be easily seen on the lid. The LED flash in different colors. Students can easily toggle between four colors using a software interface to indicate their status. Through this teachers can easily keep track.
Acer said that the exact specifications, prices, and availability will vary by region. For more visit acer website.
Editorial Staff at Generic Whiz.
Comments
comments