Facebook Trying To Save Free Basics In India
Facebook has a user base of 125 million in India (March, 2015), just second to the US. Facebook has initiated a compaign to save Free Basics in India and that too with full force. But as well all know it is still under Net Neutrality threat, so Facebook has to work harder. In accomplishing this, here's what you can see on Facebook these days,
Free Basics is a first step to connecting 1 billion Indians to the opportunities online – and achieving digital equality in India. But without your support, it could be banned in a matter of weeks.

The TRAI is holding a public debate that will affect whether free basic internet services can be offered in India. Your voice is important for the 1 billion Indian people who are not yet connected and don't have a voice on the internet.

Unless you take action now, India could lose access to free basic internet services, delaying progress towards digital equality for all Indians. Tell the TRAI you support Free Basics and digital equality in India.
Also, you can see the request to send e-mail to regulator Telecom Regulatory Authority of India (TRAI) with the following on Facebook,
Facebook 'Free Basics' Email To TRAI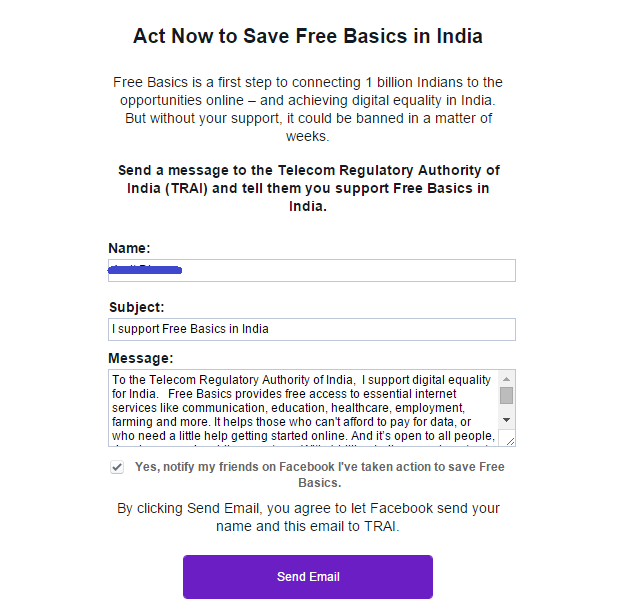 Image Credit: Facebook
Reliance Communications customers in India were accessing Free Basics service, in form of mobile application to open websites (some) without paying any charges.
TRAI has ordered RCom to to put Facebook Free Basics on hold in India. The last date is December 30 for public comments on Trai's paper.
– PTI
– Facebook email compaign
Editorial Staff at Generic Whiz.
Comments
comments