Good Food Talks App: Restaurant Menus Now Accessible To Visually Impaired
So you went to a restaurant and finding difficult to read the menu. Do not worry, here's an app which is gaining momentum under accessibility – Good Food Talks: An app to read restaurant menus.
Yes, Good Food Talks assists people with visual impairments as well as reading difficulties for browsing and accessing restaurant menus on smartphones. The app works with VoiceOver and Dynamic Text and is compatible with visual accessibility features of iPhone. Some options also include high contrast settings (2) with an option to read in OpenDyslexic font.
The app allows the UK's nearly 2 million visually impaired people to access restaurant menus.
Good Food Talks – How to work on it
Here's how you can work on it,
Type a restaurant name, city, or postcode, or just click the "Near me" button. As you browse the menu,
Build a shortlist of items you selected for ordering,
If you're not present at the restaurant location, use the restaurant information icon for checking opening hours,
Call the restaurant, or get directions on Apple or Google Maps.
Here in the image you can see the "Near me" button,

Image Source: Apple App Store

Here in the image you can see the Accessibility settings – Hi-Contrast, Open Dyslexic font,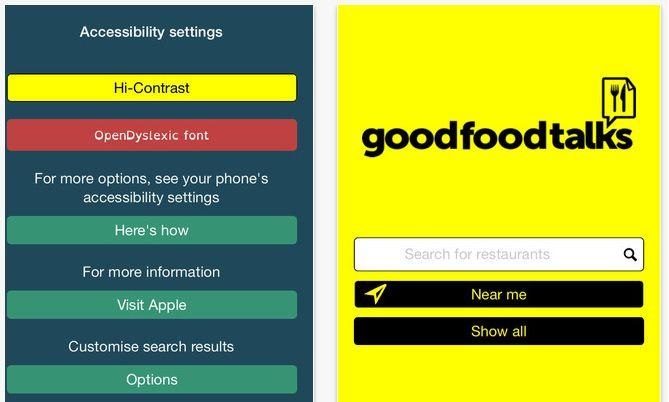 Image Source: Apple App Store

As stated,
Good Food Talks is already trusted across more than 1000 restaurant venues by some of the UK's most forward thinking independent restaurants, pubs, chains, and hotels. Our service is and always will
be free to access for all users. Restaurants pay a small subscription, which allows us to keep all of our menus fully up to date.

The Good Food Talks app is free for diners to use. Restaurants pay a small monthly or annual subscription, which ensures that menus can be kept up-to-date.
Download from Apple App store. For non-iPhone users, just open the web browser and type the official website of Good Food Talks: goodfoodtalks.com
Read here for more information and how it works. Here's the official video,
Editorial Staff at Generic Whiz.
Comments
comments