Google Text-to-speech To Read Highlighted Text Aloud From Any Android App
Google text-to-speech is a screen reader application by Google, last update focused on adding multiple male and female voices. Google has updated its Text-to-speech now to make reading easier for everyone, inCluding partially sighted and visually impaired users. Now, you can easily read highlighted text from within any Android app and system-wide. Version 3.9.6 from the Android N Developer Preview 3 allow users on Marshmallow (and above) can easily highlight any piece of text and have it read aloud to them.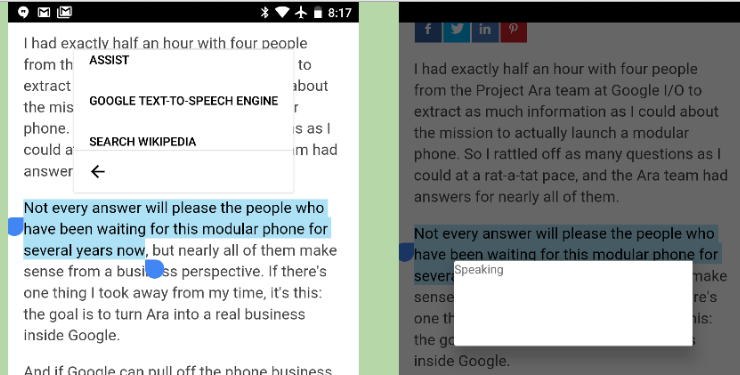 Image Source: androidpolice
This version adds "Google Text-to-speech engine"allows users to highlight text they want read back. After highlighting an option comes that says "Speaking" (see in the pic above). The audio plays in the background and will end when app is closed, also you can't pause or resume speech.
You can also change the speech rate, languages and voice sets. For that, go to  "Settings", "Language & input", then click "Text-to-speech-output". Developers used to buidl text-to-speech into their apps, but now there is no need to spend time on build one.
NOTE: The new version not yet available on Google Play, but came bundled in the latest Android N developer preview.
We're expecting the engine to be added with more control on just click of a button.
Editorial Staff at Generic Whiz.
Comments
comments