Google Introduces Spaces App For Small Group Sharing
Sharing is caring. We have heard this before, but definitely sharing is sometimes difficult when we are doing multitasking. In that case, group conversations, link sharing between apps, and other tasks can create quite a confusion. So, Google has launched Spaces App that lets people get together instantly to share any topic.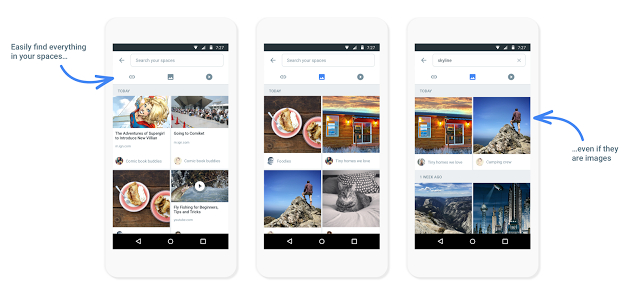 Image Source: googleblog.blogspot.in
With the new app, it would be easier to find and share articles. Also, share videos and images without leaving the app. This would be possible because Google Search, YouTube, and Chrome come as a part of it
The conversational view lets you see what the group is talking about even when some of your friend shares something new to a space.
Quick search option to check articles, videos, comments, and images shared earlier.
Create a space with just one tap for any topic.
Invite anyone via message, email, a social network, etc.
Luke Wroblewski, Product Director, stated via blog,
"We'll also be experimenting with Spaces this week at Google I/O. We've created a space for each session so that developers can connect with each other and Googlers around topics at I/O, and we've got a few surprises too. If you're joining us in person at I/O, make sure you install Spaces on Android or iOS before you arrive!"
Spaces app will be available from today on Android, iOS, desktop, and mobile web for all Gmail accounts.
Just try!
Editorial Staff at Generic Whiz.
Comments
comments