Google Safe Browsing In Chrome For Android Now Available
Google Safe Browsing has protected billion users form various unwanted threats like malware for years. Now it is available for Chrome users. That means the technology is now enabled for Chrome users on Android. This would protect mobile chrome users from accessing phishing sites and web pages ( with malware ). Safe Browsing was only available for desktop users before.
As stated via official blog,
Google Safe Browsing has been protecting well over a billion desktop users against malware, unwanted software, and social engineering sites on the web for years. Today, we're pleased to announce that we've extended our protective umbrella to hundreds of millions of Chrome users on Android.
For current Android users, this update is part of Google Play Services, starting with version 8.1. The first app to use it is Chrome, starting with version 46, so Google is looking forward to protect Android Chrome users by default. Go to Chrome's Settings, Privacy menu and verify that Safe Browsing is enabled.
Here's an example showing how Chrome will warn you about dangerous web sites,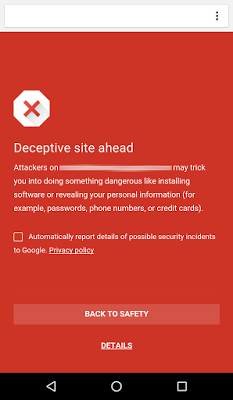 They further stated,
We hunt badness on the Internet so that you don't discover it the hard way, and our protection should never be an undue burden on your networking costs or your device's battery. As more of the world relies on the mobile web, we want to make sure you're as safe as can be, as efficiently as possible.
Google made that it minimized network traffic with optimizing the service for low memory and processor usage.
Editorial Staff at Generic Whiz.
Comments
comments